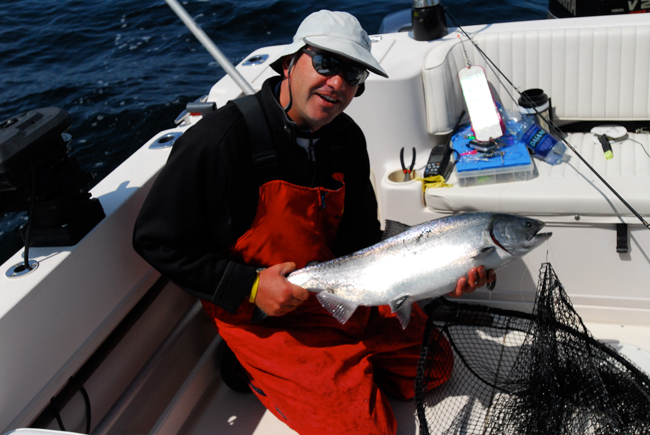 Adam's Fishing Charters Victoria has catered to thousands of satisfied clients since 1989
We have hosted some of the most experienced and renowned travel and angling writers who have published articles about the incredible local fishing. in national, regional and local newspapers, and international magazines.
Now there's a closer option for anglers who thought they had to travel to the far reaches of the Pacific Northwest to tangle with huge halibut.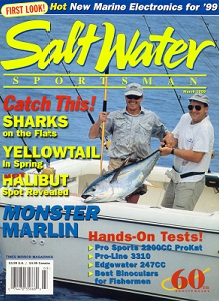 When two top guides in British Columbia's Victoria area ask me, on separate occasion's if I'd like to catch halibut, it makes me wonder what's happening in this bastion of salmon fishing. After all, halibut have always taken a back seat to salmon in this region. Why the sudden interest?
It turns out that halibut fishing has become a hot topic in the eastern Strait of Juan de Fuca since the spring of 1997, when the area saw its first halibut derby. Fifty-five flatfish were tallied in the two-day event, while last year's derby produced 97 fish.
The 25- mile-wide Strait has always hosted decent halibut fishing, but until recently it was almost considered an early-spring affair, a warm up to the beginning of salmon season. But as Rob Gordy of Gordy's charters in Sooke and Adam Heffelfinger of Adam's Fishing Charters in Victoria Harbour showed me, times are indeed a-changing.
Barndoors at Your Doorsteps
My introduction to Juan de Fuca halibut fishing began when my son Michael and I scheduled a half-day salmon charter with Adam Heffelfinger in June, 1997. It surprised me that Adam started talking about halibut as soon as we stepped aboard his boat at the Ocean Point Resort in Victoria's inner harbor. I knew that April and May were productive months for the big flatfish, but had always assumed they left the are by mid-June.
Well, Adam proved me wrong. After trolling up a couple of coho and pink salmon and cutting off their heads for halibut bait (all coho salmon must now be released), Adam brought us to a spot called Constance Bank and dropped anchor in 180 feet of water. He then rigged the salmon heads on salmon-style 10/0 hooks and sent them to the bottom with three pounds of lead.
Adam likes to use salmon heads at this time of year because it deters dogfish sharks from stealing the bait. However if the dogfish aren't too much of a problem, he'll rig his special halibut combo, a mackerel and squid "sandwich", which combines a smelly, oily bait with a tough chewy one. Halibut find it hard to resist.
"When the rod tip dips to the water and line starts peeling off, that's the time to set the hook," Adam advised Michael and me after our baits had settled. No sooner had he spoken than the rod closest to me mirrored his words. I picked it up, set the hook and leaned back as 30 pounds of flatfish surged across the bottom. Most sport-caught halibut in the strait weigh 15 to 30 pounds, so-called "chickens" that make choice eating. The big ones, "barndoors" of 100 pounds or more, are less common, but you never know when one will happen along.
After 20 minutes of slow, steady pumping, I had my halibut to the surface, where Adam struck it with a flying gaff secured to a quarter inch line. Together we hauled the flopping fatty over the gunwale, then Adam deftly dispatched the fish with a stout club.
Adam favors anchoring for halibut, although drifting used to be the popular approach. However, once the locals started anchoring, as is commonly done in parts of Alaska, their catches increased substantially. It seems that Juan de Fuca halibut aren't reluctant to follow a scent trail right to its source.
They're Here All Year
Halibut fishing has proven to be so consistent that Adam feels you can score at any time, even when the dogfish are thick during the summer months. "You have to have faith, patience, and the right GPS numbers," he smiled. "Halibut are here more months than we used to think. You just have to work harder for them and outsmart them or outlast the dogfish."
Halibut populations appear to be on the upswing in the Pacific Northwest. Biologists report a strong population of maturing fish from the 1988 spawning class, which reached an average length of 32 inches in 1998. In the Strait of Georgia, on the eastern edges of Vancouver Island, halibut are being taken in areas that were once badly over fished by long liners. Now that commercial halibut fishing has been closed for several years, the fishery seems to be rebounding.
Another reason halibut are being taken is their growing popularity among sportsmen. In other words, more anglers are spending time targeting the fish, and the result has been some impressive catches. In the 1997 halibut derby, for example, the top fish was a 147 ponder taken from Jordan River, west of Sooke. A 171.2 pound fish from Oak Bay flats, just east of downtown Victoria, took top honors at the 1998 derby. Currently, the largest recorded halibut for the Victoria area is a 189 pounder caught in 1997.
Victoria BC Canada Information Links
Victoria Tourism Information l Victoria Inner Harbour Webcam l Current Weather & Forecast