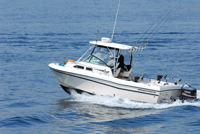 We understand your concerns about booking a fishing charter. The following are commonly asked questions and our answers.
If you have further questions please Email or Phone Us. Our goal is to make your fishing experience special.
We understand your concerns about booking a fishing charter. The following are commonly asked questions and our answers.
If you have further questions please Email or Phone Us. Our goal is to make your fishing experience special.
What is Adam's Fishing Charters?
We are a fully guided sport fishing charter company based in Victoria, British Columbia. We specialize in fishing charter excursions for Salmon, Halibut and a variety of bottom fish. We pioneered cruiser class charter fishing and were established in 1989.
Where are you located? Meeting Points
Our departure dock is in Victoria's Inner Harbour, below the Visitor Information Centre at 812 Wharf Street.
How do I contact you?
You can contact us by using our email, or by calling our information/reservation line at (1) 250 370 2326. If we are on the water when you call this number will be forwarded to the boat and if we are busy playing a fish we may ask to call you back!
Do I need a reservation?
Yes reservations are required. You can make them here on our site by emailing us with your details, by calling our reservation line (1) 250 370 2326, or through your travel agent or hotel concierge. To hold your reservation we require some contact information, your phone number (preferably a cell phone number if you will be travelling with one), your hotel in Victoria and name it is registered under.
We do require a credit card (Visa or Mastercard) to secure your reservation. No payment is processed ahead of your charter. See our Charter Policy
What Payment do you accept?
We accept cash, Mastercard, Visa and American Express.
Are special rate packages available?
Yes, we have several special rate packages available but we prefer to custom tailor a package to suit your individual holiday schedule. Contact us and we'll put a special package together just for you
Do you have washrooms on board your boats?
Yes, our boats do have Marine Heads – toilets in the cabins – onboard, and there are public toilet facilities beside our departure dock.
What should I bring?
We recommend you bring sunglasses, a hat, comfortable non-scuff shoes, and clothing suitable to the weather conditions. Depending on the time of your charter, bringing a snack or lunch, and beverages, is also a good idea. Definitely bring your camera and/or video camera, but most important of all, bring your biggest smile, cause you're gonna' need it! Packing your rubber boots from home is not necessary!
Where can I park? Meeting Points
Parking is available nearby in several locations. The closest is described in Meeting Points There is also underground parking directly across the street at The Victoria Conference Center/ Empress Hotel . Access is off of Douglas St. Don't forget, all metered spots in the city are free on Sundays. Closest meters are on Humboldt St at Government St.
Are the boats covered?
Yes. Our boats are a walk around style with hardtops and glass/canvas enclosure. There is no bulkhead so everyone on board can be part of the action at the back of the boat.
Do folks get seasick?
Our fishing area does not normally get the deep ocean swell associated with motion sickness. We do however get wind and tide chop on some days, but it is normally not a problem for most people. If in doubt please bring some anti-nausea medicine, which is available without prescription in all local pharmacies and supermarkets. Ginger Root is a known and effective herbal remedy.
Can I keep the fish?
Of course you can, and it always tastes better when you catch it yourself! If you have a good catch then we recommend the services of the fish processor in Victoria Harbour. They will custom cut, vacuum pack and freeze all your fish for $2.25 CAD. per pound. They also have three sizes of Airline approved travel boxes to get your fish home.
If you simply wish your fish cleaned and gutted we will happily do this gratis.
Where do I get a fishing license?
All anglers in Canada require a Tidal Water Fishing License. You must buy these online, PRINT THEM AND BRING THEM WITH YOU. To do this click HERE Day Licenses are $11.81 for Canadian Residents, $13.65 for Non-Residents – all children under 16 years are $6.50.
Do I have to bait my own hook?
That's completely up to you. Most of the time your guide will do all the technical stuff, but if you wish to get involved just ask!
Will there be other people on the boat?
No – when you charter with Adam's that boat is yours for the time requested, it is YOUR fishing trip, our trips are private. On occasion a boat will be shared when the originating charter requests in advance to open the remaining seats to others.
Can we stay out longer than the allotted time?
Many guests request this, and if time permits, of course, the charter can be extended. Hourly rates will apply.
How many people can you accommodate?
We cater per boat groups of one to five anglers. For larger groups we can accommodate from 10 to 100 anglers. Contact us for details.
When is the best fishing?
There's an old saying that the fishing is always good, it's only the catching that changes. Most species we target are migratory in nature, the winter less so as populations can hold and reside for weeks, or even months. Come May/June we are in pursuit of the larger migratory fish and they tend to come through in 'waves'. The fishing off Victoria British Columbia is noted as one of the best catch zones in the world.
Will we see wildlife?
Yes, we frequently encounter marine life. The list includes harbour seals, California and Stellar sea lions, porpoise, Orca, bald eagles and a variety of sea birds.
If your question is not answered here please contact us – we are always available to answer your questions about fishing charters in Victoria, British Columbia Canada.
Victoria BC Canada Information Links
Victoria Tourism Information l Victoria Inner Harbour Webcam l Current Weather & Forecast