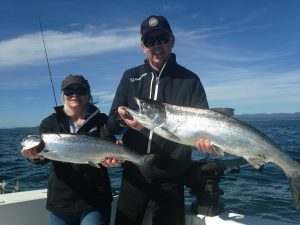 The 2016 Salmon Fishing Season has started with a bang, we've been busy actively guiding since mid-February. Our area produces consistent chinook salmon fishing through the winter season due to the annual herring migration. We are seeing regular fishing patterns evolve as spring and summer approach. Like clockwork the sandlance have showed up in their usual haunts as of mid April. In our opinion they are the favourite bait fish for just about every species of fish we have here on the west coast – especially salmon. The fish are getting bigger by the week.
We are pleased to welcome back all our staff from last year. Adam, who has fished these waters for over 25 years, Temple, who has been an outstanding member of our team for 6 years and Chase, who is back for his 2nd year, are all eager to get you out on the water. Whether it is a family outing, friends ticking things off their bucket list or diehard anglers itching to get into some fish, we are here to host you and show you a fantastic time on the waters off of beautiful Victoria BC. We are prepared to make the 2016 Salmon Fishing Season our best yet.
We offer full and half day trips. Our half days are 5 hours and leave at approximately 7am and 1pm daily, full days are 8 hours departing at 7am. All trips are fully guided, all the bait tackle and gear are provided as well. We have several convenient pick up locations with our main departure dock being located just below Tourism Victoria's Visitor Information Centre at 812 Wharf Street.
If you have any questions please don't hesitate to ask, your 2016 salmon fishing season adventure awaits you!
Call us at 250-370-2326 to reserve your day on the water or drop us an email gethooked@shaw.ca
Get your fishing license online by clicking HERE