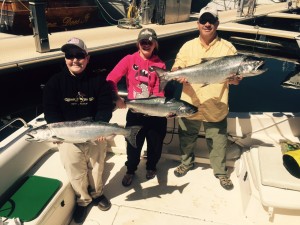 Check out these Spring Salmon caught in Victoria BC! What a great day to be on the water! Beautiful calm seas, warm salt air and great fishing where all on the menu for these anglers. Guided by Temple they took home these three beauties. Getting out on the water is easy. We pick up our guest at several different locations in Victoria's Inner Harbour and in most cases our departure dock is within easy walking distance from all downtown Victoria hotels. We can get you into some Spring Salmon caught in Victoria BC too. We have three high performance fishing vessels and typically we accommodate small groups of 2-4 people. All our trips are private charters and all the bait, tackle and gear is included in the cost of a trip. All anglers fishing in the waters surrounding Vancouver Island are required to hold a Department of Fisheries and Oceans fishing license. Follow the link below to get yours.
This picture was taken yesterday July 30 and we are currently targeting Chinook and Pink salmon. Once you are on board one of our boats you will talk to your guide about the options for your trip. Our guides are on the water everyday so they have a very good grasp on what is happening on any given day. It's a big ocean out there and choosing a charter business with experienced guides makes all the difference. We have all the latest equipment and electronics to maximize your opportunity for success.
If you have any questions please don't hesitate to ask, your fishing adventure awaits you!
Call us at 250-370-2326
Get your fishing license online by clicking HERE